All map changes in Fortnite Battle Royale version 10.30 – Greasy Grove and The Prison Return, Moisty Palms and more In Fortnite Battle Royale Season X, Epic has decided to restore previous POIs
All Fortnite Battle Royale v10.30 Map Changes – Greasy Grove and The Prison Return, Moisty Palms & More
For Fortnite Battle Royale Season X, Epic decided to restore previous POIs (Points of Interest) in each update, but they are not exactly the same as they were. Fortnite Update 10.30 is now available for download and play, and this update brings a lot of changes to the map.
As Epic was rolling out old POIs to the map at the start of the season, they were added one at a time, however, Greasy Grove and Moisty Palms were added in Update 10.30. Here are all the map changes that have been made in this update.
Greasy Grove
Greasy Grove has always been a popular POI, and many fans were disappointed when it froze in season 7 when the iceberg hit the island. Greasy Grove was completely frozen over and was known as Frozen Lake at the time, but some houses were accessible through the roof. All the snow and ice in the area had melted and Greasy Grove was back. As soon as you enter the Rift Zone, the message "Welcome to Greasy Grove. Time for Taco! ". Here's what Greasy Grove looks like:
Fortnite v10.30 Changes to the map – Greasy Grove
Spicy Tacos that fall from the sky will appear and be random, which will force players to dance, and players will be vulnerable to damage from others but gain health at 20 HP per second. Spicy Tacos can also be found on the floor which will grant 10 health / shield and temporarily increase speed by 40% for 20 seconds.
Greasy Grove is almost back exactly as it was, however the Durrr Burger Restaurant has now turned into a Tacos Restaurant as seen below.
Fortnite v10.30 Changes to the map – Greasy Grove Tacos Restaurant
This building is still three stories high, but now you can find posters that show them selling "a burrito the size of your face"! Many other interesting posters have been added to this location.
Fortnite v10.30 Changes to the map – Greasy Grove in the Tacos restaurant
The map looks quite strange as Greasy Grove was added in the snow biome but is no longer covered with snow and the map shows a green circle. This could mean the snow biome is starting to melt, but we'll have to wait and see what Epic has up his sleeve.
Moisty Palms
The Rift Beacon, who was seen at Paradise Palms, partially restored Moisty Mires. There is now a swamp area in the desert biome which could also mean that the desert biome may be removed in future updates, but Paradise Palms buildings remain. Here's what Moisty Palms looks like:
Fortnite map changes v10.30 – Damp palms
When you enter this Rift Zone, you will see the message "Fabulous wet palms. Crouch to support! " You can turn into a prop while you are in this rift zone by crouching in and out of it while standing or pressing the fire button. The prop you transform into will be completely random and you can take damage.
The Prison
Prison was also a popular unnamed POI that players could land in previous seasons, and now it's back in Update 10.30. The Prison can be found east of Moisty Palms. This location is in the Moisty Palms rift zone, so in this area you can turn into a prop by crouching.
Fortnite v10.30 Changes to the map – Prison
Dusty Depot – Rocket Reconstruction
It seems The Visitor is busy creating another rocket at Dusty Depot. At the end of this season, we can see another live event similar to the first live event in Fortnite.
Fortnite v10.30 Map changes – Dusty Warehouse
Here's what the inside of the last building in Dusty Depot looks like:
Fortnite v10.30 Map Changes – Inside a dusty warehouse
Let us know in the comments section below if we missed any changes to the map in Fortnite Update 10.30.
Khadija Saifi
Co-founder, Lead Writer, and Finance for Fortnite Insider. Khadija has been playing in her spare time for over 10 years, mostly playing FPS and Fortnite, playing for over 500 hours. Khadija specializes in challenge guides and breaking news. BA (Hons) Accounting and Finance. Contact:
The Fortnite Prisoner skin will require persistent playing and careful searching. Here's how to unlock all 3 stages and a bonfire location map.
Fortnite Prisoner skin stage 2
The second stage of the Fortnite Prisoner skin is much easier. You just need to know where to look. The idea is that you unlock his face mask / bike lock. Poor dude. The key is in the Polar Peak Lock, in the desk north of the top. To interact with him, you must first equip the Prisoner of the First Degree.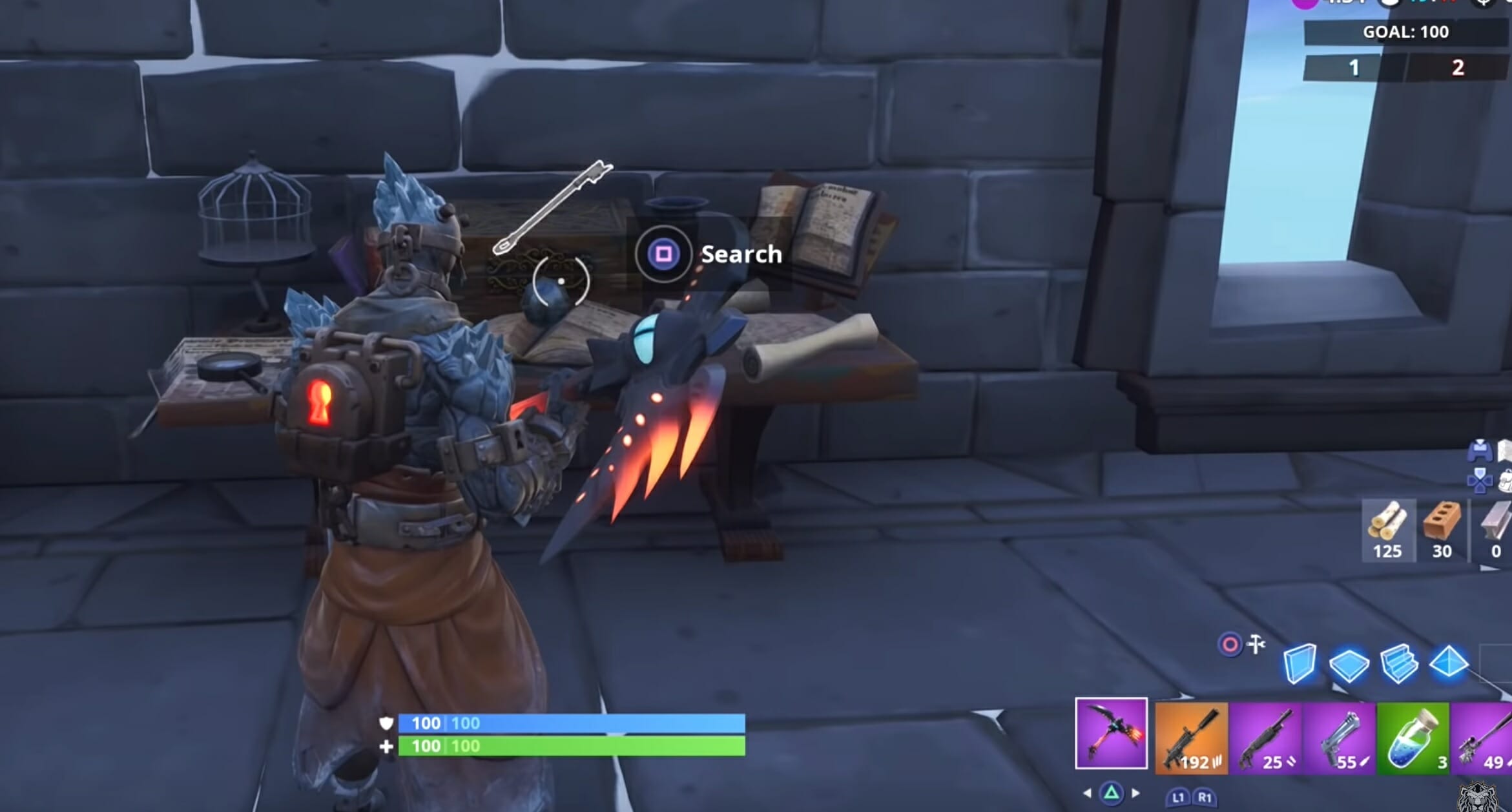 Empty / YouTube
Twin Galaxies video game world records – lifestyle and culture discussion forum and live streaming network, please go to https://www.twingalaxies.com/ – Arcade, Console, PC, Nintendo, Playstation, PS2, PS3, PS4, Xbox , Xbox 360, Xbox One
Fortnite Prisoner Skin Stage 4
The requirement to unlock the second part of the Snowfall skin required players to find the key that was in the Polar Peak Castle, where the Snowfall character was trapped for much of Season 7 of the new campfire items that were added to the Battle Royale title in the latest content update to unlock the appearance 4 preceding stage 3 of a prisoner outfit.
Fortnite Prisoner Stage 2 Skins (Source: Dot Esports)
Considering the first two requirements to unlock the first two stages, before the appearance of the Fortnite Prisoner Outfit 4 has to do with finding and interacting with unique items on the Battle Royale title map from Epic Games, it wouldn't be too surprising Stage 4 will be unlocked in the same way.
Unfortunately, even the dataminers have not been able to discover any details regarding the Stage 4 unlock process for the Snowfall Outfit at the time of writing. As Season 7 ends at the end of February, players can expect Epic Games to officially disclose the Fortnite Prisoner Stage 4 unlock requirement over the next few weeks.
A Prisoner Skin is a Fortnite cosmetic that your character can use in-game! There are high-quality images of this skin available on our website.
Is my last burning stage gone? WTF!
So we have physics back on Fortnite for a change, which means the prisoner's toga and chains are swaying again. Still!
Unfortunately, there's a bug with his toga (it could only be on a Nintendo Switch and cell phone, but I don't know) where it's stuck to his legs, so when you emot or run, it doesn't sway. It is my favorite skin and I would like Epic to fix it.
Yes, this only happens on Switch and Mobile. It's also my favorite Battle Pass skin, and since its release, I always hope they fix it, but it never happens.
I know it's been a while, but will I be able to finish it? I don't have stage 4
No, that was part of the combat pass.
I don't think people appreciate some AWESOME skins. Sites like Reddit or this (3.5 / 5 is a bad score for someone like a Prisoner) say people don't like this skin.
In my opinion, this is the most detailed and unique skin that Epic gives "for free". Take a look at him, his alternate styles, his animation, his concept. It's solid leather 10/10. The best secret skin by far. It was the best part of Season 8. I still don't understand why it is so low, why people don't like it that much.
Anyway, let's hope the Utopia skin is better than it, tough, but I'm curious to know what surprises us with the Epic gift.
He destroyed the whaling forests. I hate him
It's terrible and disgusting. I was hoping for a cool looking skin to use, now I'm working harder on challenges than in any other season for that purpose. I think the final stage is pretty cool, but anyone knows how to get it?
We don't know yet, this will be added in the guide mentioned above when we do.
I wish to be able to use the first stage version but take off my helmet
I understand, but there are no stages
Will there be any challenge stages soon?
You'll be able to unlock stages by finding items on the map, at least that's how it works in Stage 2. Here's our guide on how to find it: https://progameguides.com/fortnite/fortnite-guides/fortnite-guide-how-to-unlock-for- prisoners/
My theory is that the ice king is really good and he froze himself and the castle to keep the prisoner captive. But when they got to the island, the temperature was too high and the ice was melting. When the ice king woke up, he realized what was happening and froze the island in an attempt to freeze the prisoner. But it was too late, and the prisoner was using all the power he had when his hand was free and regained consciousness a bit to melt the ice and free himself from captivity. Now that he has escaped, he is melting all the snow and "rebalancing". I think the description where he says he's going to restore balance is actually his own version of balance. Like Ultron from the Avengers, how he was designed to save Earth, and he decided the only way was to kill all humans. Plus, I really like leather and it looks a bit like Thanos. Thanks for reading my thoughts on the in-game story and my one opinion on actual skin and how I feel about it. What do you think is obvious? About skin and my theory?