A complete guide to the best Fortnite settings for performance, FPS stopping, controller and better graphics for PC, Xbox and PlayStation.
Best Fortnite Settings: The Ultimate Guide
by combining our past experience with the game and combining the new knowledge we have accumulated, we have compiled the ultimate guide to all your Fortnite problems. This guide will help you find the best Fortnite settings for PC, Xbox, and PS4 / PS5, and even controller settings. He will also discuss Fortnite's graphics settings and how to fix FPS drops in it. When I said "Ultimate Guide" I meant it. So let's get started!
Fortnite is one of the most played battle royale games that exist in recent memory. It is very competitive and beginners may find it difficult to get their first victory. Even if you come from another battle royale game like PUBG and start Fortnite thinking you will dominate day one, you are wrong. Why? That's because Fortnite isn't just about aiming and shooting, but rebuilding your opponent at lightning speed. Learning the build mechanics in the game may take some getting used to, but can become frustrating if you have unstable performance. If you're playing other online games, check out our Overwatch settings and Valorant settings.
With each new update, the texture quality improves and new structures are added. So your frame is forced to go down in some fights. Even a high refresh rate monitor will become useless if the computer does not display enough frames.
Now, for the best Fortnite FPS to help you win fights, I am going to list some great tweaks and fixes for you. These best Fortnite settings will give you high FPS and a noticeable visual improvement. So, whether you want to increase FPS in Fortnite, improve graphics in Fortnite, or fix FPS drops in Fortnite, this guide covers you from all angles.
This Fortnite Settings guide will be broken into 4 parts:
Windows improvements for high FPS in Fortnite
Fix FPS drops in Fortnite
Software settings for the best Fortnite performance
Fortnite General Settings
Here's the best guide on how to optimize Fortnite and get the highest frame rates possible. You will also increase the overall performance of your computer.
Optimize Your PC Settings
Let's start with optimizing your system. These settings and optimizations can also be applied to other games. If you've already followed one of our previous game optimization guides, feel free to skip part of this step.
First and foremost, we need to make sure your system meets Fortnite's recommended system requirements or at least the minimum system requirements.
Minimum system requirements
Operating system: Windows 7/8/10 64-bit or Mac OSX Sierra
Processor: Intel Core i3 2.4 GHz
RAM: 4 GB
GPU: Intel HD 4000
Hard Drive: 30 GB
Recommended system requirements
Operating System: Windows 10 64-bit or Mac OSX Sierra
Processor: Intel Core i5 2.8 GHz
RAM: 8 GB
GPU: NVIDIA GeForce GTX 660 or AMD Radeon 7870 2 GB
Hard Drive: 40 GB
Update Your GPU Driver
You probably hear it all the time, but you need to make sure your GPU drivers are up to date. Especially for newly released games, both AMD and NVIDIA release new drivers that are specifically optimized to run those games.
Updating AMD or NVIDIA drivers is very easy. Just click on one of the buttons below and you will be taken to the download pages. You can also use your own AMD (AMD Radeon Software) or NVIDIA (NVIDIA GeForce Experience.
Fortnite AMD Settings Optimization
If you have an AMD graphics card, follow these steps to optimize Fortnite (and any other game) for your system.
Open the AMD Radeon software
Click the Games tab
Click Global Settings
Set the smoothing mode to Use application settings
Set the anti-aliasing method to Multisampling
Turn off morphological filtering
Set the Anisotropic Filtering Mode to Override Application Settings
Set the Anisotropic Filtering level to 2x
Set texture filtering quality to performance
Set Optimize Area Format to Off
Set Wait for vertical refresh to Always Off
Set to disabled
Disable the shader cache
Set the tessellation mode to Override application settings
Set the maximum tessellation level to off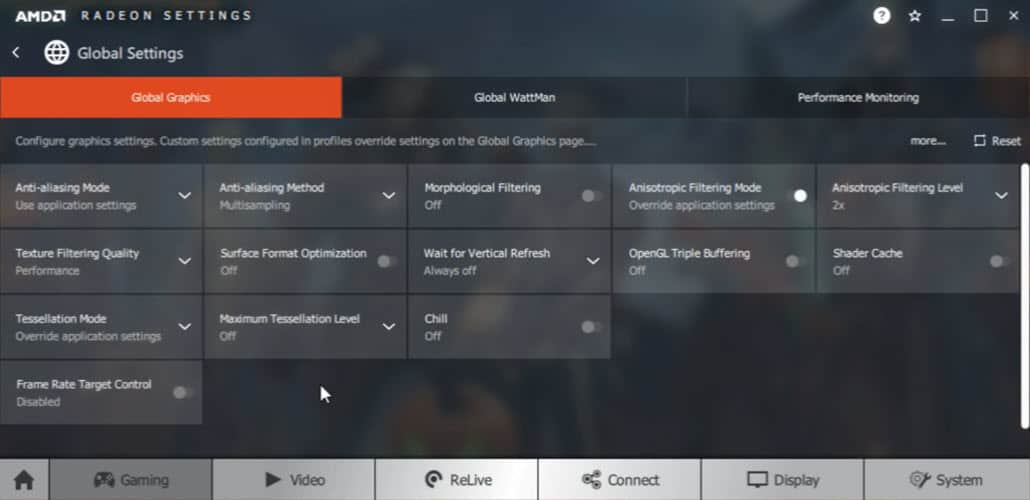 ​