In this article, you'll learn how to play cross-platform with your friends and other players in Fortnite Battle Royale.
Fortnite Cross Platform – Crossplay PC, PS4, Xbox, Switch or iOS
Fortnite Battle Royale is a game that is played all over the world. Different players compete against each other and the last team remaining receives a royal victory. However, the game is even more fun when you can play it with your friends and family.
Fortnite Battle Royale can be played on a variety of devices such as iOS mobile, PC, PS4, Switch, and Xbox One. In this article, we're here to guide you about how a PC gamer can play with an Xbox user and vice versa. It's called cross-platform, and we'll show you all the steps to easily play with players from a variety of devices.
Playing on the crossplay platform is a bit difficult. There are several steps you need to follow, which are different for different devices. So don't forget to read this article carefully so you can play Fortnite with anyone on different platforms.
While you haven't been hiding under a rock for the past few years, you may have heard rumors about Fortnite on social media.
What is Fortnite Battle Royale?
The original version of Fortnite was designed by Epic Games developers as a zombie survival game. An open-ended experience where cooperative players can face waves of zombies while giving them the opportunity to gather resources and build bases to defend against the oncoming hordes.
Around the time PlayerUnknown's Battlegrounds started making waves, the development team decided to build and release a new free-to-play mode for Fortnite in a similar Battle Royale style – which turned out to be brilliant.
This style of play is based on the Japanese thriller "Battle Royale", originally released in 2001. The premise of the gameplay is quite simple – 100 players drop from a plane (or, in the case of Fortnite, from a floating combat bus) onto a large island or area where they have to fight each other until the last surviving or surviving team is left.
To add to the tension, a randomly placed shrinking circle of doom forces players to come closer and closer as the game progresses. Anyone caught outside this zone will inevitably die and be out of play. So the game is not only a fight against other players, but a race against time.
This project was popularized by PlayerUnknown's Battlegrounds, but with Fortnite Epic Games it added something new. Resource gathering, base building items from the main game also appear in the Battle Royale version. This means players have a lot of choices about how to play, including building a base at the end to defend themselves against other players, building passages to the sky or nearby mountain peaks, and even quickly building defensive walls to protect fallen teammates from incoming fire when they are resurrected.
The game begins with a race to gather resources, find and collect bigger and better weapons, and kill or avoid other players who are nearby. Players must be constantly aware of the shrinking game zone and try to stay in it without eliminating along the way. The game is over when the final players shoot and one team or person wins.
Fortnite can be played alone or with friends, and it is playing with friends that makes this game really shine. You can play with up to four players on a team or with two players in duo mode. The experience will vary a lot depending on how many people are playing. On your own, you have no one to guard your back, but you probably won't run into a group of four enemy players at the same time, either.
The experience is certainly exciting and players love it. This style of gameplay seems to be extremely popular, but the game itself also has a huge and growing number of players as it is available not only on multiple platforms but also for free.
Fortnite Battle Royale also features bright, cartoon-like graphics that make it compelling and more accessible than the more serious PlayerUnknown's Battlegrounds or Call of Duty: Warzone. With character emotes, silly animations, and well-crafted building mechanics, this often feels silly and funnier than a serious competitive game.
Here's everything you need to know about Fortnite in 2021. How many people play Fortnite? Is Fortnite dying in 2021? The number of Fortnite players is shocking! ✅
Fortnite player count 2021
Both PUBG and Fortnite appeared in 2017 and took the world of video games by storm. Since then, battle royale has become one of the most popular videogame genres, with more and more games coming out each year. In 2021, millions of people play Fortnite every day, and seasonal events are taking the Fortnite player count even higher than usual. How many people play Fortnite in 2021? Let's find out:
1. In September 2021, between 3 million and 4 million played Fortnite concurrently across all platforms.
How many people are playing Fortnite now? The playercounter.com source page has an algorithm that tracks the number of active players in many popular video games. Our team monitored the number of active players for several weeks before adding the numbers in this article. In the case of Fortnite in September 2021, there are between 3 and 4 million active players in Fortnite.
According to Epic Games, Fortnite is currently available for PC and macOS, PlayStation 4 and PlayStation 5, Xbox One and Xbox Series X | S, and Android OS 8.0 or later. Millions of people have played Fortnite for mobile devices on iOS, but the mobile app is no longer available on the AppStore. We'll cover this in more detail in a moment.
2. In September 2021, Fortnite ranks #6 on Twitch.
Games such as League of Legends, CS: GO, and Minecraft made it into the top five Twitch games by number of simultaneous viewers. Fortnite has been in Twitch's top ten for years, and no wonder – interest in the game is still very high in 2021. (see statistic no. 13). Fortnite Twitch channels and 70,000 to 120,000 Fortnite Twitch viewers. According to LendEdu, over 25% of all Fortnite players also watch Fortnite broadcasts on Twitch (see source # 12).
3. 62.7% of all Fortnite players are in the age group of 18-24.
Most Fortnite players are between 18 and 24 years old. When it comes to Fortnite demographics, more than two-thirds of all Fortnite players are male (72%), 22.5% – in the 25-34 age group, 12.7% in the 35-44 age group, only 2% of all Fortnite players ages 45 to 54, and more than 25% of US teenagers play Fortnite.
4. Most Fortnite players come from the US and Brazil.
We all know how big the American gaming community is. And when it comes to the most popular Battle Royale franchise in history – things get really huge. As much as 27.52% of all Fortnite players come from the USA, 8.8% – from Brazil, 5.50% – from Russia, 5.14% – from Great Britain and finally – 4.78% – from Germany.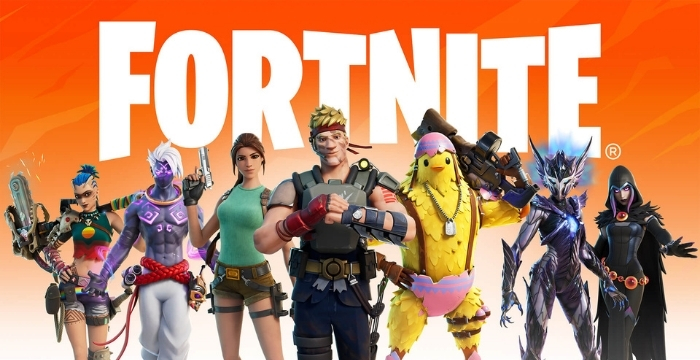 Epic Games' Fortnite lets you fight your friends – even if they're on different platforms. Here's how!
Questions?
Let us know in the comments.
Watch Oscar nominees use iPhones to film Apple's 'Saving Simon' holiday ad
Two Oscar nominees created an Apple Saving Simon Christmas ad and this video shows how it all turned out.
Caviar's made an $8,400 iPhone out of a 'real Tesla electric car'
Caviar is a name that fans of crazy iPhones will already know well and this time the company has absolutely outdone itself. Now he sells an iPhone made of Tesla.
>