While we can't find any studies that firmly state that kids' IQs can be increased by playing Minecraft, we certainly agree with the educational benefits this game can offer.
How Much Is Minecraft Worth And How Many Players It Has In 2021?
Minecraft is loved by millions of players around the world and is played by a diverse group of people. In 2014, after being acquired by Microsoft, the number of mobile gamers grew and Mojang became one of the greatest game developers in the history of games.
In 2021, Minecraft has a total valuation of over one billion dollars. The exact number is $ 1.7 billion. Minecraft is the most popular game in video game history with 166 million players in August 2021 alone.
It's incredibly huge when it comes to fans and market space, and Mojang founder Markus Persson made a lot of money selling the game to Microsoft in 2014 for $ 2.5 billion. He even bought a $ 70 million villa in Beverly Hills and lives a life few can afford. But how has Minecraft fared since selling it?
Minecraft Revenue in Last 10 Years
Minecraft took to the air after the Pandemic as its user base grew drastically, as did other digital companies. According to a report by PCGamers, the game has been played by a total of 200 million players around the world, and this year alone, more than 20 million players have joined their community.
The new monthly record was 161 million players in August 2021, and the number of multiplayer sessions has recently increased. Last year's Nether update added some exciting new adventures to the game, which led to more interest from both new and old players.
That's an impressive number, but not a shocking number of players Minecraft has attracted over the years.
In 2020 alone, Minecraft had 131 million monthly active users.
This year, the chart has an upward trend as in August 2021 the number of monthly active users reached 161 million.
That's an amazing number, but Pandemic has certainly played its part in the growth of digital businesses this year, and like many other games, Minecraft has also attracted millions of new users to its gaming community.
With last year's game sales in excess of $ 200 million, it will be exciting to see what this year's stats reveal about the development of the Mojang game.
The total revenue it generated was $ 412 million.
Microsoft made a huge bet on Minecraft in 2014, paying $ 2.5 billion. However, all that money has now been recovered by the company, seeing the revenue it generates every year.
As we've seen, Minecraft's revenue over the last 10 years was $ 3.132 billion, and Microsoft bought Minecraft 7 years ago, meaning a large portion of that revenue goes to Microsoft's bank account.
So a smart investment always pays off.
Microsoft bought the game to make it more flexible for their cell phones and PCs.
In the Asian and South American markets, Minecraft PE is more popular than PC and Xbox. As there are huge numbers of mobile phone users in India, China and Brazil, the expected growth in the number of mobile phone users is high.
Games are now becoming a hot offer in their youth. As more and more young digital experts trade online, many of them are entering the gaming niche.
Online games have become a way of earning money for many millennials. Various methods are used to monetize the games, such as participating in contests, streaming games on private channels, and the new NFT market could also play a key role in boosting Minecraft's revenue next year.
Minecraft versions Java and Bedrock have rather low system requirements for a PC, but that doesn't mean a more powerful PC can't significantly improve the experience. Here are the best Minecraft ready PCs.
Minecraft Published
The beta phase began in 2010, and the developer stopped his daily work to work full time on Minecraft, adding new features, updating the game and fixing bugs. While new versions of other games cost money, all bug fixes were free during this development cycle.
The beta phase did not begin until publisher Mojang became interested in the project and started funding its development. They finally released the full game in 2011. It sold millions of copies and started a worldwide phenomenon, but there were still many changes to Minecraft.
After the game was released, new updates continued to be made and bugs were fixed. New server hosts introduced, making the game run smoother and much more thanks to its computing power. The world expanded as players attempted to travel through a seemingly endless digital space. It is designed to last forever and new areas have been added to make the game more interesting.
Nether and the End have been added to the base world. Nether was a hell-like region accessible only through a portal. The End is a series of islands where the game's last boss resided. Once the boss is defeated, the credits will roll over, but players can still return to their worlds and explore the game environment after completing the game.
Hitting All Platforms
Mojang released several different versions of Minecraft when they had the publishing rights, releasing a free version known as Classic Minecraft for PC, along with the full version for which they put most of their publishing power. Microsoft bought the game and the brand from them a few years later and went into a publishing frenzy.
First of all, they brought Minecraft to their systems, Xbox 360 and Xbox One, later porting the same game to PlayStation and Wii U. It's even on mobile and Windows 10 platforms at the moment, and Microsoft is showing no signs of slowing down along with release plans and development for Minecraft.
The game went beyond its single-game roots. Microsoft commissioned Telltale games to create Minecraft Story Mode, which is a single-player role-playing game that mostly plays out like an interactive story.
an educational edition of the game was also released for classroom use, with an emphasis more on exploring and building than fighting.
Microsoft continues to support the base game Minecraft with timely skin packs that offer a new look for the main characters. Players can dress up their characters as their favorite holiday season, as well as pop culture icons such as Star Wars and Harry Potter characters. No matter what group of fans the person belongs to, they are likely to find Minecraft skins that will interest them. Dozens of them have already been released and more are on the way all the time.
With last year's game sales in excess of $ 200 million, it will be exciting to see what this year's stats reveal about the development of the Mojang game.
Gameplay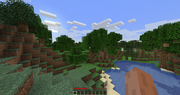 Newly created Minecraft world.
Player
One of the two default player characters, named Steve.
The player is the person that the user controls in the world. When the user starts the game, the player enters the world, generated by a random or specific seed, with an empty inventory. If the bonus chest option is enabled, a chest filled with basic items will be generated near the player. The player has a health bar with 10 hearts and can be damaged by falls, suffocation, drowning, fire, lava, lightning, cacti, sweet berry bushes, magma blocks, falling into the Abyss, hitting another entity with thorn armor, splash potions, falling anvils and hitting by mobs and other players. Health damage can be mitigated with armor or a potion of immunity, and health can be restored by eating and drinking certain potions. If the difficulty level is set to the room level, health regenerates itself.Hunger is also a factor unless the difficulty is set to Peaceful.
The player can change their skin on the Minecraft.net profile page or in the Minecraft Launcher in Java Edition and in pause or the main menu in Bedrock Edition.
Blocks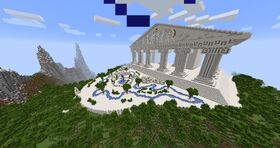 The building is based on the Greek acropolis.
the world of Minecraft takes place in a three-dimensional grid of cubes, with each cube occupied by a specific type of block, not all of which are necessarily cubic. There are different types of blocks; natural blocks such as grass, stone and ores that are randomly generated in the world. There are also blocks that players can create, such as a crafting table and a furnace. Raw materials can be extracted from blocks by hand or with tools. Some of these resources are simply blocks in the player's inventory that can be placed elsewhere, while others are used as material to create other blocks or tools. Others are of no practical use. Some blocks cannot be broken with normal survival measures, e.g bedrock, end portal frames, command blocks, bottom and end portals,barriers and air.
Mining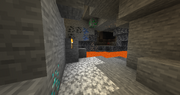 Various ores (near the lava) that can be mined with a pickaxe.
Mining is one of the main aspects of Minecraft and is mining ore and other materials mainly from beneath the map's surface. These ores include coal, iron, gold, redstone, diamond, lapis lazuli, copper, and emerald. Extraction can be by digging a hole from the surface or going down through a cave. Mine shafts and ravines create additional areas that can contain resources as they are usually rich in ores.
Crafting and smelting
Editions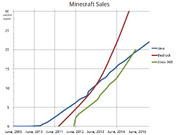 Minecraft sales figures up to December 2015.
Java Edition
Original Minecraft platform, running on Windows, macOS, and Linux, launched by the launcher. The game was originally released as an "Early Private Single Player Alpha" on May 17, 2009, followed by several stages of development (Classic, Indev, Infdev, Alpha, Beta in particular), and finally the game was released on November 18, 2011. The edition has received many important updates since its official release.
Bedrock Edition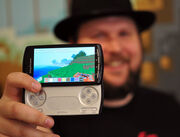 A notch in Minecraft: Pocket Edition.
Bedrock Edition (also known as Bedrock Platform, Bedrock Codebase, or Bedrock Engine) refers to the cross-platform Minecraft edition family developed by Mojang Studios and Xbox Game Studios. Prior to that date, as the engine was derived from Minecraft: Pocket Edition, the entire product family was referred to as "Pocket Edition", "MCPE" or "Pocket / Windows 10 Edition".
Minecraft, without a subtitle, is the title of all Bedrock editions in Minecraft. Before the update, Better Together had different subtitles on a variety of platforms, including Pocket Edition (for all mobile platforms), Console Edition, Windows 10 Edition, Gear VR Edition, and Fire TV Edition.
Minecraft: Pocket Edition was initially released exclusively on Xperia PLAY on Google Play [9] for $ 6.99 on August 16, 2011. It was later released to other Android devices on October 7, 2011 [10] and iOS on November 17, 2011. [11] On September 13, 2012, the Pocket Edition was made available for purchase from the Amazon Appstore. The Windows Phone version was released on the Windows Phone Store on December 10, 2014 [12], for which Pocket Edition 1.0.0 and later is only available for Windows 10 Phone and later. Since then, four Pocket Edition adaptations have been released; for Windows 10 July 29, 2015, Gear VR April 27, 2016, Apple TV December 19, 2016, and Fire TV December 19, 2016 [13] [14] [15] [16] As of September 24, 2018 Apple TV Edition has been discontinued.
Legacy Console Edition
Legacy Console Edition refers to the console edition of Minecraft that was developed and updated by 4J Studios.
The Legacy Console Edition was originally announced for the Xbox 360 console on June 7, 2011, at E3 2011. The Xbox 360 Edition was digitally released on May 9, 2012, and then physically on June 4, 2013. The game was later released on additional platforms as PlayStation 3 Edition on December 17, 2013, PlayStation 4 Edition on September 4, 2014, Xbox One Edition on September 5, 2014, PlayStation Vita Edition on October 14, 2014, Wii U Edition on December 17, 2015 and Nintendo Switch Edition on May 11, 2017 As of December 10, 2019, no further feature updates have been released for these versions and the latest update available depends on the platform. The latest update for the Xbox One Edition and Nintendo Switch Edition is World of Color Update, while the Xbox 360 Edition, PlayStation 3 Edition.
Since Minecraft isn't recommended for 5-year-olds, no matter what rating system you're looking at, you may want to hold back. While this is a great game to stimulate kids' creative juices, five-year-olds can get frustrated. There is also very mild violence that parents may not want to expose their 5-year-olds to.
Minecraft Revenue Over Time
Minecraft
As mentioned before, Minecraft is the best-selling game of all time, selling over 200 million copies worldwide as of 2020. Its annual revenues have been huge since 2012, but even now it still makes a lot of money.
The game earned Mojang, the developer and owner of Minecraft at the time, nearly $ 240 million. This profitability was attributed to the success of Minecraft: Xbox 360 Edition on Xbox Live Arcade and Minecraft: Pocket Edition.
In the same year, Xbox Live Arcade alone sold over 5 million copies of the game.
Mojang's profits nearly doubled in 2013 from the previous year, thanks to Minecraft, which generated $ 322.4 million in revenue. Around the same time, the Xbox 360 edition sold over 11 million copies, the PC version moved up more than 14 million copies, and the PlayStation 3 version sold over one million copies.
in 2014, Minecraft changed hands to Microsoft in a deal worth 3,500.5 billion. Revenue for the same year was $ 165 million, but the following year it increased to $ 350 million.
Minecraft achieved its highest revenue in 2018, amassing a total of $ 500 million – $ 110 million from the mobile version of the game alone.
While Minecraft hasn't hit that level of profitability since then, it still earns a hefty sum every year. Microsoft announced its third fiscal quarter results in April 2021, with personal computer revenues totaling £ 13 billion – an increase of 13% – in the first three months ending March 31.
They identified games as the main driver of the growth, with Xbox hardware gaining 232% year-on-year this quarter, largely due to high demand for the Xbox Series X and S.
Revenue from Xbox content and services also grew 34% in the quarter, "driven by the power of third-party titles, Xbox Game Pass, and proprietary titles."
In the same report, Microsoft said Minecraft had a very good year and continues to grow, with nearly 140 million monthly active users, an increase of 30% year on year.
The last decade for Minecraft has been pretty solid, and it continues to be a huge source of money for Microsoft, especially in recent years.
The Future of Minecraft
Minecraft
Minecraft's future certainly doesn't look bleak given its steadily growing player base, Twitch popularity, and overall profitability. If it continues on this path, it might as well continue for another decade.
Even if the first Minecraft players have grown up or moved to other games, Minecraft still manages to attract a new wave of gamers as well as hold on to dedicated veteran players like the popular Minecraft YouTuber, EthosLab, who has been uploading in-game content regularly for over 10 years.
Mods have always been popular in Minecraft and keep it from aging, allowing more creativity and freedom in a game that already embodies both. As mentioned earlier, players have downloaded the mods over a billion times, so the game still has a booming community.
These additions range from in-game quality of life changes like a revamped interface to downright bizarre ones like the No Cubes mod, which, as you might have guessed, makes blocks and horizons round rather than cubic.
There are a huge number of mods available for Minecraft to refresh the experience. In fact, there are over 80,000 mods on CurseForge alone, and the number is constantly growing.
In addition to community created content to keep the game fresh, Minecraft also regularly receives official patches and updates, including the long-awaited Caves and Cliffs update.
The first part, released in June 2021, added tons of new blocks, plants, animals, and items to crafting. The second installment, scheduled for the end of 2021, will bring many new biomes and creatures, as well as a few other things that have yet to be announced.
Minecraft has come a long way since 2009, flourishing into the highest grossing game of all time from a buggy but promising single-person sandbox title. Given that its popularity hasn't diminished significantly from the very beginning of the hype, Minecraft could again, like its 2013 update, change the world.
Minecraft is available on all major platforms including PC, Xbox 360, Xbox One, PlayStation 3, PlayStation 4, Switch iOS, and Android.
Some of the stories you find on Cultured Vultures contain affiliate links that earn us a small commission based on purchases made while visiting our site. We cover game news, movie reviews, wrestling and much more.
CEO Marcus Persson is now retired at the time of signing the deal, and even said in an interview that after making the deal, he felt his life was sad because he didn't have much work to do after it.
Review: The ABS Challenger (ALI598) is an impressive, affordable gaming PC
Got around 400,000 to spend on a gaming PC? Newegg's ABS Challenger does many things well without shortening a lot of corners, and its 1080p performance cannot be ignored.
Microsoft finally releases Android 11 for the original Surface Duo
After a very long wait, the original Surface Duo may now receive an operating system update to Android 11.
We believe Minecraft can help your brain. One of the researchers behind the Glasgow University research also believes this and made the following statement in the Daily Mail:
Is Minecraft suitable for a 5-year-old?
Since Minecraft isn't recommended for 5-year-olds, no matter what rating system you're looking at, you may want to hold back. While this is a great game to stimulate kids' creative juices, five-year-olds can get frustrated. There is also very mild violence that parents may not want to expose their 5-year-olds to.
But if your 5-year-old is determined to play, you can set the game to creative mode where there will be no interaction or conflict with others. This is a good option for kids who really like the game and just want some time to play. This allows them to be creative and see where the game will take them without interacting with others.
Is Minecraft a child's game?
If you are wondering if Minecraft is good for kids, Minecraft is definitely a game for kids. It allows kids to be creative, not just sit in front of a screen and play a game. They work on creating things and even work together with other children. This game uses problem-solving and teamwork skills, which is great for kids of all ages. They are also skills that they can use throughout their lives. While playing, children have to figure out how to pass the next levels to make their game as good as possible.
Parents can have fun too! Your child can get so caught up in the game that they will want to show you what they did and what they created. Use this time to find out what your child is doing online and learning. Not only will this give you first-hand knowledge of what your child is doing online, it will also allow you to spend time with your child while they do something they enjoy.
The player can change their skin on the Minecraft.net profile page or in the Minecraft Launcher in Java Edition and in pause or the main menu in Bedrock Edition.
FunTech's Minecraft coding camps
We have been at the forefront of Minecraft education for years. During our summer camps in London and the South East of England, thousands of children walked through our doors.
At our camps, your child can get the Minecraft lessons he or she needs, but also make long-lasting friendships and collaborate with other children in the classroom.
Our Minecraft teachers work every summer and our classes are:
average 8 to 1 student per Minecraft teacher
Ofsted registered
Accept vouchers for childcare
It works from 9:00 am to 5:00 pm
Structural learning
Over 24 years of experience
All places within easy reach of communication
The courses currently available are:
Minecraft with Mods – ages 7 to 10
This creative and fun Minecraft summer camp is full of science, experimenting, problem solving and creativity.
Once your child has mastered the secrets of Minecraft, such as brewing potions and conquering Nether, they will learn how to modify various items that will take their Minecraft skills well beyond the basics.
Minecraft Engineering with Redstone – ages 9 to 12
Redstone is the Minecraft electricity equivalent. We start out by teaching you how to use this energy to create different logic gates.
Your child will then learn how these logic gates can be combined to create various circuits and complex electronic components such as calculators, elevators and more. They will use all the skills they learned to design and build an amazing adventure course full of challenges, surprises and puzzles for players to go through!
Want to know more?
Hopefully this has provided enough insight into what FunTech can offer. There's a lot more to see in our courses section – we don't just offer Minecraft coding camps.
At the heart of everything we do are three principles; fun, education and safety. We believe that by the end of our weekly courses, your child will learn invaluable skills and maybe even make Minecraft smarter!