In this Destiny 2: Beyond Light leveling guide you'll learn about caps, equipment types, and more.
Reach your Guardian's potential with this Destiny 2: Beyond Light leveling guide
This Destiny 2 fast leveling guide will help you out with caps, equipment types, and more.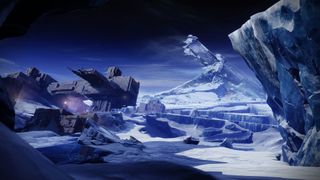 Looking for a Destiny 2: Beyond Light leveling guide to help you hit the soft cap in an hour, like these players have done? It's no secret that Destiny 2 is all about flexing your Big Number in front of onlooking Guardians. Your Power Level acts as a gate to certain activities and an almighty flex on your peers. But there are so many ways to boost your Power Level that it can be confusing. Ensuring you maximize your efficiency when grinding to get the most out of every level is hard. So here are some top tips on how to boost that Power Level as high as it can go.
Reach the season endgame faster than ever with this Destiny 2 Power Level Guide! We'll touch on the power cap as well as how you can hit in in record time.
How Leveling Works in Destiny 2
The leveling system in Destiny 2 is directly tied to the Power Level of your gear. This means that the game takes the combined average Power Level between every piece of Armor and every Weapon you have equipped, in your inventory, and even in your Vault to give you your current standing. The benefit of this is that it allows you to focus on upgrading specific gear slots if they are bringing your average down. The drawback is that it is very common to have one weapon or Armor slot that is always lagging behind.
Additionally, you also have different level caps – known as the Soft, Powerful / Hard, Pinnacle, and Max Caps – that can only be reached by earning specific gear. The higher your Power Level gets, the more specific the gear you earn will have to be. This means that when you're first starting out and going after the Soft Cap, any Rare, Legendary, or Exotic gear will help you level up. But once you hit Powerful and Pinnacle caps, you have to focus on specific gear types known as Powerful and Pinnacle Gear.
Now your Max Power Cap can only be achieved by hitting Pinnacle and fully upgrading your Seasonal Artifact. That's a slightly different system, so we'll tackle that here in a bit.
How to reach the soft level, hard level and max level cap in Destiny 2 using Powerful Gear tiers and Pinnacle Gear sources.
How to get to Legendary Gear to get to the 1270 Power Soft Cap in Destiny 2
Learning which sources give what Power loot is key to faster and more effective leveling. The vast majority of activities will drop loot up to the 'soft' Legendary cap of 1270, meaning when you start out playing Destiny 2, you simply play the game how you want to level up.
Here's an idea of ​​what this includes:
Blue and Purple drops from enemies
Decrypting Blue and Purple Engrams
Individual Clan Bounties
Completing activities (such as Public Events, Lost Sectors, Strikes, Crucible) and opening Loot Chests
Daily Heroic Story Mission (Vanguard playlist)
Previous Raids from Year 2 and Year 3 (such as Last Wish, Garden of Salvation) encounter wins and completions
Previous Dungeons from Year 2 and Year 3, including The Shattered Throne and Pit of Heresy
Regular Nightfall playlist
You can also complete Powerful Gear and Pinnacle Gear activities, though the drops will be in line with your current level than leapfrog you past that.
Additional note: Redeeming Tokens at Vendors no long drop up to the soft cap as with previous years, and will give you gear 20 power lower. Gear from Collections, meanwhile, will always drop at the base gear level.
In short, to get to 1270, it's simple a case of playing any activities you like. If you want to speed this up and have completed all story missions, then Crucible matches and Public Events are among the fastest way to do it.
We'd also suggest you avoid infusing – which enables you to change the Power of a certain piece of Gear by 'consuming' another one – until you at least hit the Powerful Gear stage, since until then be getting gear so regularly it'll be outstripped by something else very quickly.
Though it's advised you play the game normally, there is a method to get to the soft cap quickly.
Destiny 2: Beyond Light is here, and that means a new Power level grind is here too. Here's how you can get to Power level 1,200 and above as fast as possible.
Bonus: Complete bounties for extra Power levels
source: Bungie
Throughout the entire leveling process, we highly recommend picking up and completing as many bounties as you can. This is because while the bounties themselves don't drop Powerful Gear, they do provide a lot of experience – and experience is what you need to level up your season artifact. Doing this gives you boosts to your Power level so that it's always a little higher than what your gear is. Additionally, it also allows you to unlock mods that will be important to use during Nightfall: The Ordeal runs. Experience is also what you level up your Season Pass with, so there's really no reason not to do bounties when you can.
Destiny 2: Beyond Light is available now on Xbox Series X, Xbox Series S, Xbox One consoles, PlayStation 4 and 5, and Windows 10 PCs. It costs $ 40. The base game is free-to-play, and I highly recommend trying it out if you haven't already. Destiny 2 is easily one of the best Xbox One shooters on the market today.
Wield the Darkness
Destiny 2: Beyond Light
Welcome to Europa, Guardian.
In Beyond Light, players will encounter a dark Fallen faction, travel to new locations, and go beyond the Light to wield the power of the Darkness.
We may earn a commission for purchases using our links. Learn more.
You can now sketch directly in Outlook on Surface Duo, Surface Duo 2
Those with Surface Duo or Surface Duo 2 can now ink and draw directly in a new email message in Outlook for Android. The new feature, which was shown off in early October, is now available in a recent update for the app. Here's what you need to know.
This retro vid is how Microsoft explained 'Xbox Live' to press back in 2002
This ancient Microsoft press kit from 2002 quaint concepts like voice comms, Gamertags, and explains multiplayer matches as cutting edge innovations from a time long since passed.
This might be the best entry-level Xbox headset Black Friday deal so far
The excellent SteelSeries Arctis 3 is enjoying a beefy 51% discount for Black Friday, and might be among the best headset deals we've seen so far throughout the season.
Grab one of these pre-built PCs if you want to run Oculus Link with Quest 2
The Oculus Quest 2 is a standalone VR headset, but thanks to Oculus Link you can attach it to a PC for a more Rift-like experience. These pre-built PCs can handle the work.